HeartMath® Introduces the HeartCloud™ – a new platform developed for all HeartMath technology products
Boulder Creek, California –NOVEMBER 21, 2013– HeartMath announced today that they have launched HeartCloud – a cloud technology platform available for the hundreds of thousands of HeartMath technology products users. HeartMath technologies are tools for life -proven effective to help users quickly release stress and rebalance the mind and emotions.
HeartCloud™ offers users of emWave® Pro, the emWave®2 and the Inner Balance™ App/Sensor gamification and session data to build on their experience using HeartMath's heart rate variability (HRV) monitoring and coherence training technologies.
Successfully taking the science of HRV, HeartMath has delivered a user-friendly monitoring and training format within three different technology products. HRV is an important indicator of health and HRV feedback is a highly effective way to neutralize stress. With over two decades of HRV research under their belt, HeartMath is adding another dimension to their products with HeartCloud.
Users acquire skills to transform old stress habits and increase personal balance and resilience using HeartMath's award-winning technologies. Users now also have the added benefit of synching their HeartMath technology devices and accessing all their session data in one location via the HeartCloud.
Over 15,000 health professionals and thousands of personal coaches and sports trainers use and recommend HeartMath products to patients and clients. HeartCloud enables data sharing to support proactive team work, empowering behavior changes and accelerating performance skills.
Gamification and engagement features within HeartCloud include user awards for completing several sessions or maintaining a high performance level within a session. This feature adds another level of meaningfulness for users as well as healthy competition to challenge oneself as skills are practiced.
HeartMath products assist people in feeling more connected in all areas of their life. "When life is going fast and we're feeling stressed and overwhelmed it causes us to feel less connected. Our customers want to reduce stress, but they also crave a life that's more heart-connected and led by their heart's intuitive guidance," said HeartMath CEO and President, Deborah Rozman, Ph.D.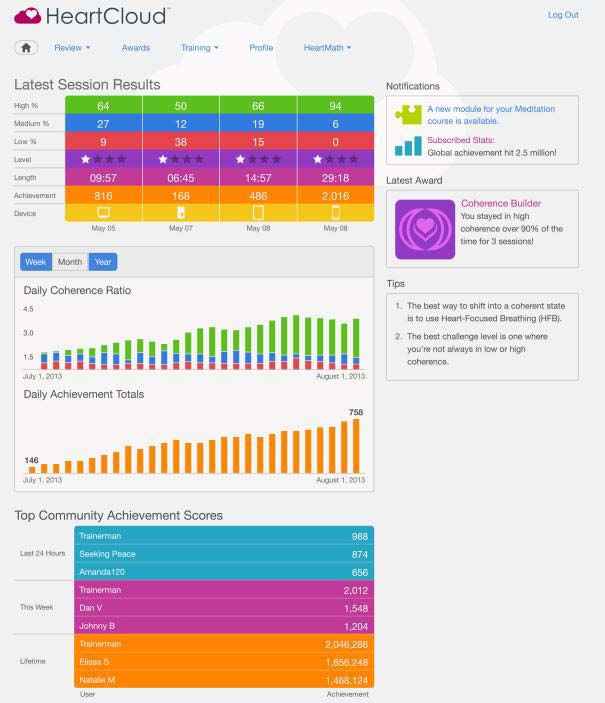 <![if !IE]>



<![endif]> HeartCloud subscribers can choose to get reminders and training tips to support their efforts to manage their emotional response to stress. The vibrant charts in HeartCloud show session results; the user's daily coherence, average coherence and achievement scores over time. It also has charts that show training time and training session per the device being used.
"We're creating products with purpose," said Catherine Calarco, Chief Marketing Officer of HeartMath, "to help people live more consciously and authentically. Our products help people not only reduce stress but also help them free up precious energy that can be better spent creating a life they truly want," she said.
Along with HeartCloud, HeartMath is also announcing the release of the Inner Balance Lightning Sensor for iOS product users. The new sensor is compatible with the latest iOS devices that use a Lightning Connector. The Inner Balance Lightning Sensor works with the Inner Balance app and will be available this month.
"Our customers see themselves as part of the solution in creating a better future and world. They're not only
focused on reducing stress, many of our customers are also highly motivated to develop their deeper potential and life purpose. Our products are facilitating people in making this deeper connection," added Rozman.