emWave Pro
Add advanced Stress Reduction Technology to your practice with emWave Interactive Learning System. For use with patients, athletes, performers, students and anyone seeking to reduce stress, control emotions, improve health and wellbeing.
emWave Interactive Learning System provide: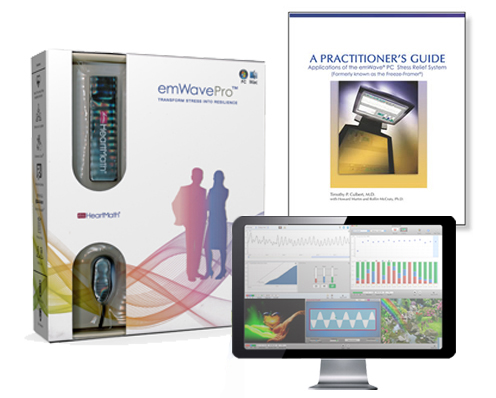 • simple, easy-to-use emWave Pro software with Patented Heart Rhythm Monitor
• a package designed especially for Health Professionals, including a guide for using emWave technology with your clients.
• stress reduction and self-regulation skills
• stress reduction benefits for ADD/ADHD, anger, anxiety, depression, chronic pain, heart problems, hypertension
Click here for more information on the emWave Pro Package for Health Professionals.
How the emWave Technology can help you in your practice?
You can use the emWave technology with your clients to help them learn internal awareness, self-regulation, and emotional management skills. They can learn to prevent stress by becoming aware of when the stress response starts and stopping it in the moment.
The emWave technology is an easy-to-use software program with a health rhythm monitor. The system is an innovative approach to stress relief based on learning to change the heart rhythm pattern and create physiological coherence in the body.
With the program clients can see how their thoughts and emotions affect the heart and nervous system. When stressed, the client's heart rhythm has an irregular, jagged, incoherent pattern. When the client shifts to a more positive emotional state, the heart rhythm pattern changes to a smoother, wave-like, coherent pattern.

By seeing the visual changes on the screen from red (low coherence) to blue (medium coherence) to green (high coherence) and associating it with a more peaceful, calm internal state, the clients learns to manage stress and maintain a state of physiological coherence and balance.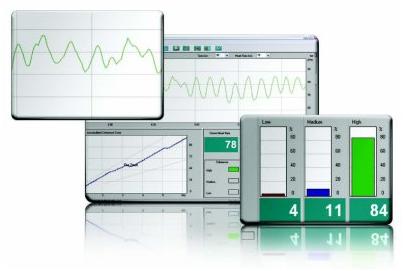 The emWave technology is a complete learning system including tutorial. Click here for more details on emWave Pro.
Today, thousands of people around the world are using the emWave system to reduce their stress, improve performance in business and sports, increase awareness and intelligence, and create better relationships.
Benefits of using the emWave Interactive Learning System with your clients:
• prevent stress before it occurs or teach how to relief from stress
in the moment
• manage emotions that accompany stress
• easy-to-use with both children and adults
• has a positive focus, feels good to use
• has a high compliance rate
• combines well with other therapies
• inexpensive software
Many clinics find emWave to be an essential tool putting an expected value on an instrument of this kind at more than two thousand dollars. Yet emWave software is as performing and available for only a few hundred dollars.
The system is simple, effective, patients like it and both the client and the practitioner benefit from using it. Indeed, many practitioners use it to recover between each session.
Help your clients make life-style changes and feel better thanks to HeartMath!